Ball Water Fountain Introduction
This marble ball water fountain is a classic style of the water fountain. It is a combination of a simple tiered fountain and a water ball. Its colors are rich and contrasting with each other, and the natural marble veins create a retro feel. This large water-rotating ball fountain is both beautiful and practical. The ball above can keep turning all the time, and the effect is very beautiful. Many customers buy this fountain and put it in their courtyards and gardens. It is really a beautiful landscape.
The Advantages of Making Fountain
First of all, the marble fountains in our factory are made of grade A  natural marble materials. Our factory has nearly 40 years of experience in sculpture production. We have a long-term cooperative supplier of marble materials all over China and purchase a large number of high-quality marble materials every year. Secondly, each of our marble sculptures is handmade by our professional top masters, and they all come from Quyang, the hometown of sculpture in China. These top masters have learned professional hand-carving techniques from an early age and are able to create the most perfect marble sculptures.

The Production Process of the Water Ball Fountain:
The water ball fountain is different from the ordinary marble fountain. Its production requires a series of complex processes and procedures. The most important of which is the production of the water-rotating ball. The stone ball and the base must be carefully polished and processed by artists to ensure that they are smooth enough. Only when there is no friction between them, can they rotate successfully through the impact of water pressure. This process requires sufficient patience and superb grinding technology. After our water ball fountain is made, we will go through many experiments to ensure that the water ball can be successfully turned.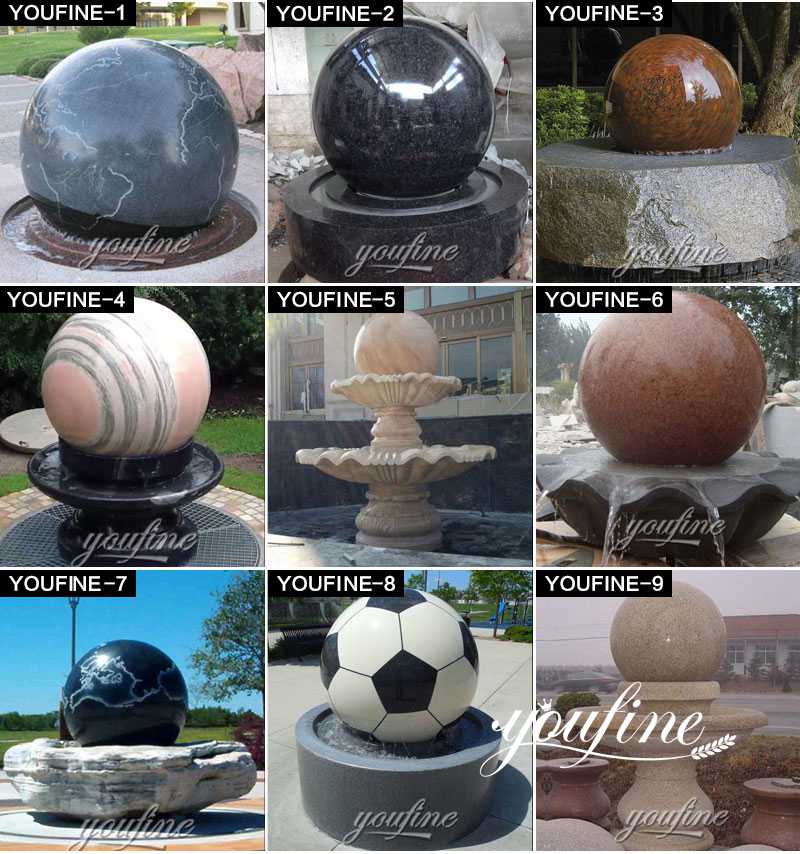 Other Fountain Types:
We are a factory specializing in the production of marble sculptures. So far, we have produced many styles of fountains. Not only this kind of water ball fountain but also figure fountain and animal fountain. Our fountains have been well received by many customers. If you have other styles you like, we also welcome you to consult the details of the products. We can make various styles of fountains for customers.
The water ball fountain symbolizes a lease of life and is a great decoration. If you need it, we will apply a certain discount for you. Don't miss it.